Take the Guesswork Out of Delivering VMware® Training and Increase Your Sales Potential

"VMTraining is one of the best partners we have engaged with for customer opportunity. They are quick to respond and in our fast paced business we need partners who understand that kind of turnaround time. Not only does VMTraining understand timing, but the quality of their consulting and training is considered tops in the industry."

– Director of Sales and Marketing, SQLSoft
Read more testimonials
Over 6,000 Satisfied Students
Start offering classes immediately with no hassle
Choose our turnkey VMware® training courses and you will receive sales training, marketing collateral and web design support allowing you to focus on placing students in your courses and generating profits. We can deliver courses in training centers across the nation or on site, so sell away and let us deliver!
5 Reasons Why Our VMware® Training Solutions Are The Smart Choice:
1) Industry Leading Trainers with Real World Experience
We have the best classes…really! All of our teachers hold top certifications AND have years of experience working in the field. Plus, we have real vendors come in and work with the students giving them unique training that transfers directly to the workplace.
2) Our Courses Are Always Up-to-Date
We are dedicated to providing up-to-date content that consistently covers all of VMware's course content and then some. Click here to contact a representative about course outline details.
3) You Can Start Offering Classes Immediately
Our turnkey solutions are easy to implement meaning you can have courses available in no time at all. This will let you focus on generating profits instead of implementing procedures.
4) Flexibility and Availability
You get full flexibility to place students in classes all over the country. No matter how many students you sign up, we can handle it. You will never have to re-schedule a class.
5) We Give Students Access to Top Notch Equipment
Our arsenal includes 104 Dell servers and 2 SANS. This is important because 65% of the class is lab time and labs are available 100% of the time during and after the class.
Contact an experienced sales consultant today at (919) 889-1880 to begin delivering quality and profitable VMware training. If you're still not convinced, keep reading to learn more!
---
Better Training, Better Courseware, Better Pricing
Provide the training that over 3000 IT Professionals have chosen to become VMware® experts!
There is a difference between VMTraining courses and what a student will find from other training providers. Students do not have to share servers and ARE exposed to third party tools and real world scenarios that come out of the field, which will ultimately make their job easier and prepare them to manage a virtual environment right out of the class.
VMTraining Courseware
Nobody even comes close to the quality we offer in this area. For example, our most popular bootcamp, the VMware vSphere® Ultimate Bootcamp® is made up of 50+ step-by-step labs and accompanied by an 800+ page course book loaded with rich content allowing students to gain the experience needed to implement the knowledge gained when they return to work the following week.
VMTraining Pricing
VMTraining offers VMware training at price points that work for students and centers alike, making VMTraining the most profitable solution available today. For starters, our VMware vSphere® Ultimate Bootcamp® is not 1 class, but MULTIPLE VMware classes in one, an incredible value when you consider the cost of education versus the cost of downtime resulting from incomplete training from other vendors.
As a training center, you can easily earn up to 60% gross margins with VMTraining courses!
We offer a great variety of courses from 5 day bootcamps to 2 day traditional classes so you can easily accommodate students of varying experience levels and compete with current market trends. Keep reading to learn about the multiple training delivery options, our affiliate partner program, and sales and marketing support which makes it easy to sell any potential students practically anywhere in the world!
Call an experienced VMTraining Sales consultant at (919) 889-1880 to find out more about how we can help you to increase your sales and profitability!
---
More VMware® Classes and Delivery Options than Any Other Provider!
Informative Videos

Watch the Ultimate Bootcamp Video!


Watch the Advanced Adminstration and VCAP Prep Video!
---
Delivery Options
Live Instructor Led Training / On-Site Delivery
In an instructor led VMware course, our instructors go above and beyond, making themselves available to the students even after the class day has ended. With 24 hour access to the data center, students can pack as much extra practice in as they want!
vMentor Training
Do you have students that can't take the time off of work to attend a 4 or 5 day class? VMTraining has a self-paced solution for those students. Our Pathfinder Mentored Training solution gives the student the same quality class content via video lecture, access to the data center and 1 on 1 time with a CVI Instructor that best accommodates their schedule. Call and ask for more details on our Mentored Learning Solutions.
Computer Based Training
Many of our Ultimate Bootcamps are available in video format which contains all of the content discussed in class in DVD format. Bundle the video format with instructor led training for a great value add or sell the video separately!
---
Industry Recognized Certification

"Managers are beginning to see the vendor-neutral cert as a more well-rounded program, which focuses more on the methodology and technology than a specific brand or software. A great benefit of vendor-neutral certifications is that they teach the technology as it is, flaws and all. The utopian view of the vendor towards its product is eliminated."

– Keith Ward, Technology Journalist
Read more testimonials
Many of today's top corporations and local, state, and federal agencies have utilized VMTraining solutions to certify their people and get their organizations trained. We offer industry recognized certifications that test for high quality training that is also vendor neutral.
---
Contemporary and Powerful Data Center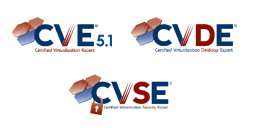 With over 100 Dell Poweredge Servers with Gigabit Switches, over 1 gbps Internet connectivity, Dual SANs, you can rest assured that your students will receive the ultimate experience of working on the best equipment available today. Each student is assigned their own dedicated server with 24 hour access during the class allowing the students to leverage the learning experience by revisiting labs after class hours. All students work on VMware HCL (Hardware Compatibility List) Certified hardware.
---
Expert Instructors with Real World Experience!
With trainers that have years of experience using Virtual Machines, all of your students' questions are sure to be addressed. The instructors are available even after the course has ended for additional questions and concerns.

"I just have to say that the response time I got from all of you was just amazing. It is showing my managers that your training class vs. the VMware training class they sent the other guy to, does not even compare. I really appreciate your quick response and help. Thank you!"

– John J Tebo III Lab Cyber Security and Infrastructure ~ Client Support Technician ~ Intel Corp
Read more testimonials
---
Sales Training and Marketing Support
Maximize your student enrollment with our sales and marketing support. We have ready-to-use marketing brochures that can be customized with your company logo and contact information and sales training that assists your sales team in closing students. Talk with an account representative to find out about the additional support programs we have available.
Targeted Lead Generation
Reduce your cost of acquisition and increase profits with VMTraining's Lead Generator System. By joining our partner channel you can take advantage of our web site and align your offerings with the most recognized name in Virtualization training to generate highly qualified leads, reducing the cost of delivery. You get a dedicated landing page with a built in search engine marketing package to ensure you are first location someone in your market sees when it comes to VMware Training.
Train the Trainer Program
Want to bring your training in house? Now it is easier than ever to do with VMTraining's "Train-the- trainer" program. Achieve greater flexibility in your ability to train without sacrificing quality by attending the VMTraining University. This program is designed to give your trainer the skills and tools needed to become a member of an elite group of trainers called Certified VMTraining Instructors (CVIs). Call today for qualification details.
---
Affiliate Partner Program
Gain increased exposure, fill seats that otherwise would go empty, and reduce overall cost through our global network of partners. Or if you have a client in another state or country, or need a specific date for a class, tap into our extensive network of partners who offer classes every week, giving you the flexibility to place students in classes running around the country and globe.
Seamless integration into your offering.
Courseware custom branded with your logo (Course Manual 800+ pages and a lab book 250+ pages).
More labs than any course offered on the market.
The flexibility for a low enrollment class where you can still turn a profit.
Lowest minimum class size fee in the industry.
Recognizable branding that students look for in 3rd party VMware® training.
Each student gets their own server, and servers are available 24/7 during the week for the student to work on.
If a student needs a server beyond the class we will make one available if it is not in use for them to continue practice.
Students can re-sit the class for up to a year for no additional cost.
We require lunch be brought in for our Ultimate Bootcamps® so more time can be spent on the material.
Our data center is state-of-the-art with the latest Dell technology and 1 gigabit direct connectivity to the Internet through 3 ISPs.
We have the ability to offer distance learning solutions where it is pure profit for your center.
We can do on premise training at a client's site (Pricing is done on a per job basis).
2 week (10 business days) cancellation policy.
---
Simple Classroom and Machine Requirements
All students need a computer with Windows XP, and a good internet connection. Nothing else. There is no set up beyond this
Instructor should have a projector to plug in, and an instructor computer with Windows XP with access to the Internet as well
Lunches are to be provided in-class for our Ultimate Bootcamps